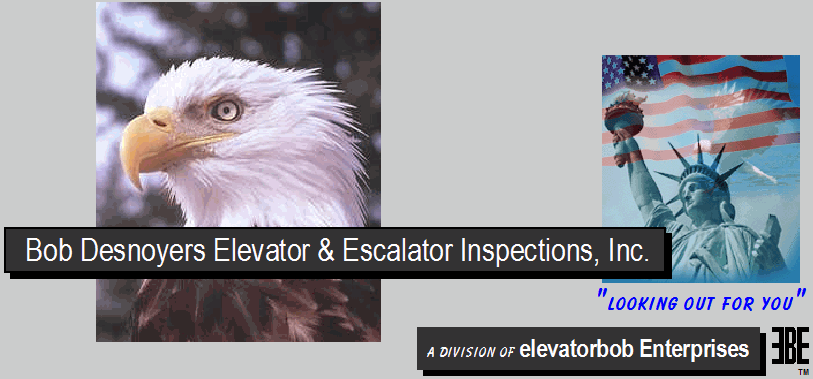 If you install escalators you may find this interesting. This program calculates the different rated loads. It also has a separate section for right-angled triangles...and who doesn't like triangles?!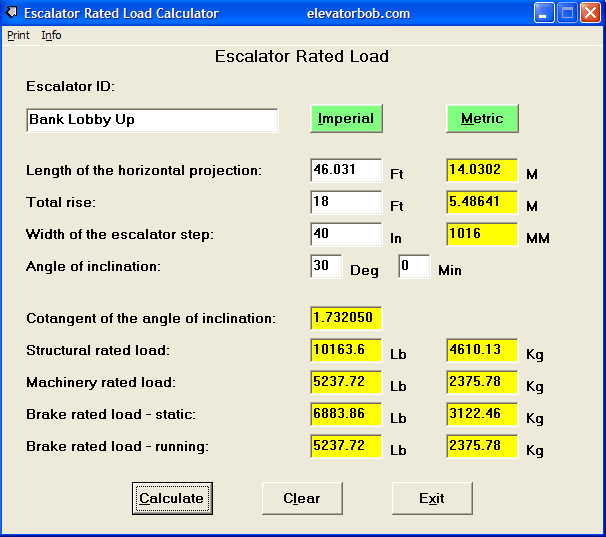 Click Here To Download The "Escalator Rated Load Calculator"

This simple program will display all of the screen and printer/fax fonts on your machine.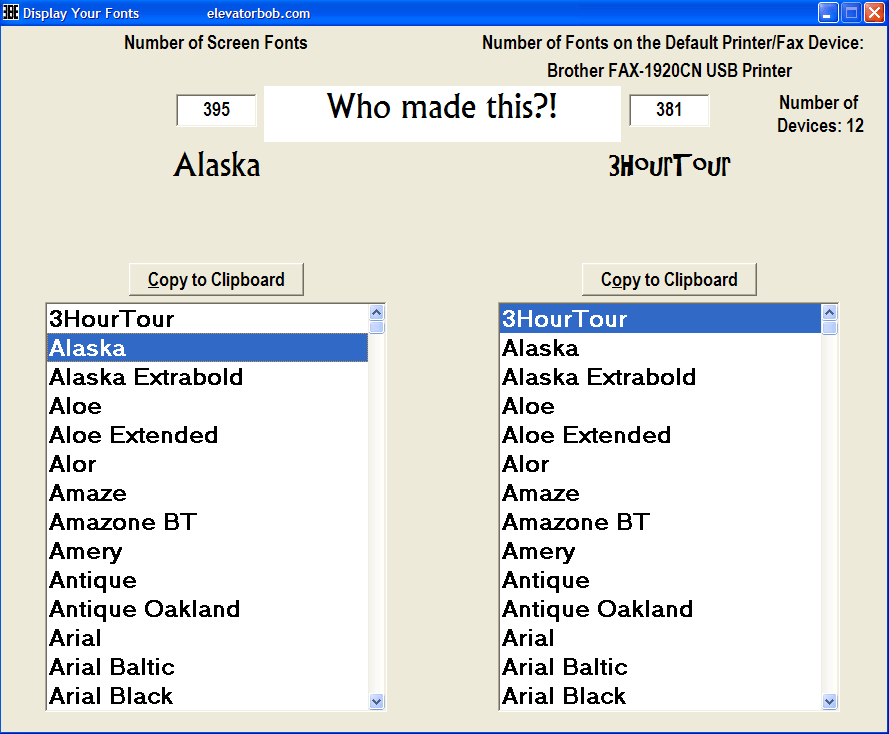 Click Here To Download "Display Your Fonts"

If you do any HTML/XHTML coding this simple program may be helpful. These are the 216 colors that are supposed to be browser-safe, meaning, they should work on all types of browsers. ( Of course, if they aren't working on your monitor right now...that's a load! )The hexadecimal number is saved to your clipboard at the click of your mouse and is ready to be placed into your code. Even if you don't do any coding...it looks nice!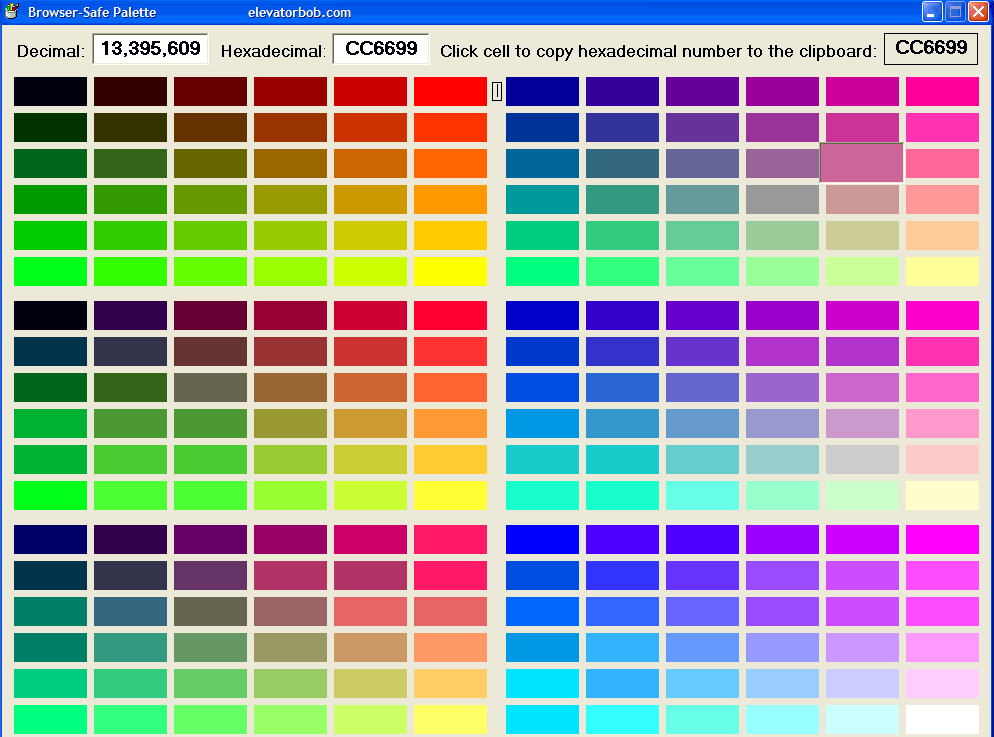 Click Here To Download The "Browser-Safe Palette"

Did you know there are over 16 million colors available to you on the average computer? Download this program and count them!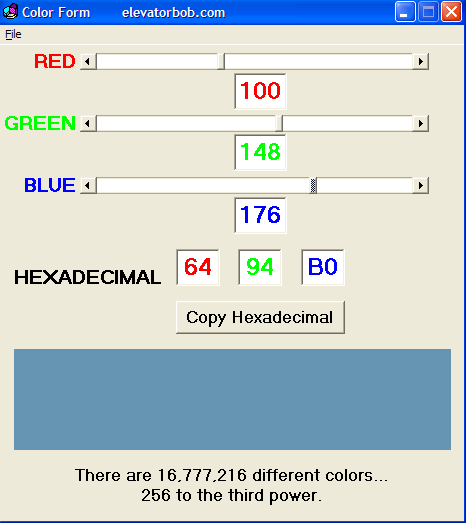 Click Here To Download The "Color Form"

Need to convert something? This multidimensional program can handle the job. 14 different categories are available.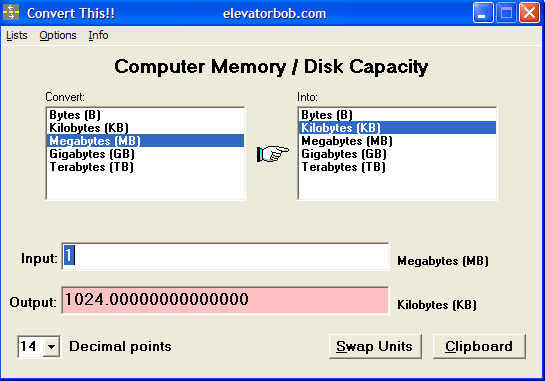 Click Here To Download "Convert This!!"

This calculator allows you to save your work and add text. You can print or fax out the results. Handy for proving problems mathematically and saving/sending the results. You must have the file RICHTX32.ocx installed on your hard drive for the program to work properly. If you need this file e‑mail me and I will send it to you.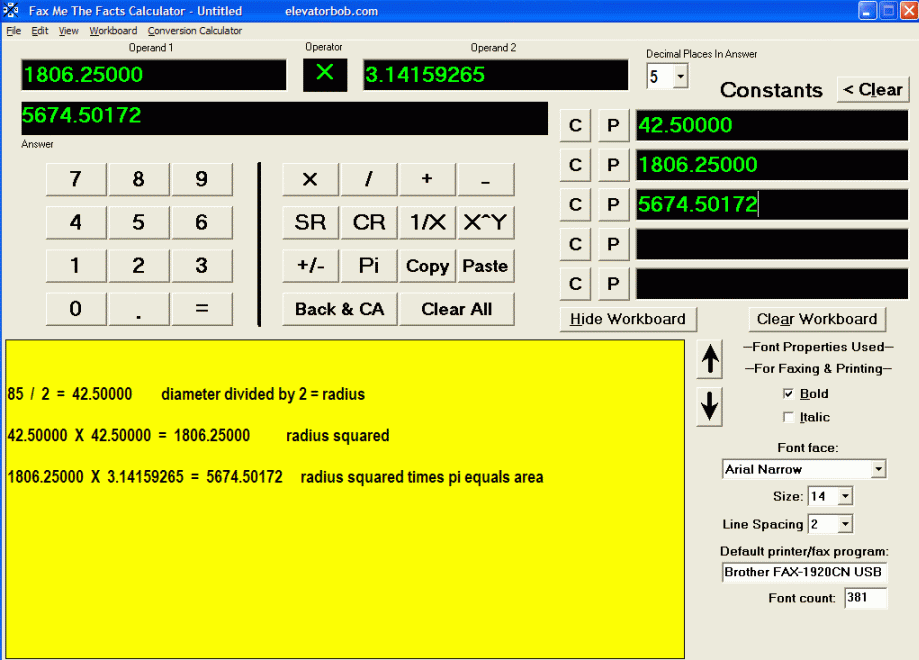 Click Here To Download The "Fax Me The Facts Calculator"

The Stopwatch and Countdown Timer comes in handy for timing door or car travel. The countdown timer can be used during a static load test or for any other event requiring a predetermined amount of time.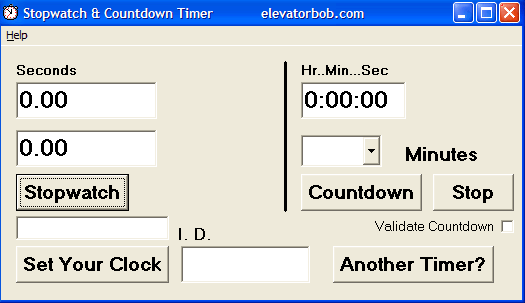 Click Here To Download The "Stopwatch & Countdown Timer"

Here's a program I call the Memory Ticker. As you can see it will display hard drive and physical memory totals - in use as well as available. It seems to only work with Windows XP and 2000. I like to keep it running in the background and minimized so that I can see how much memory is being used as I open and close programs. You'd be surprised how much memory is "locked-up" after you close a program. (Not my programs...of course!)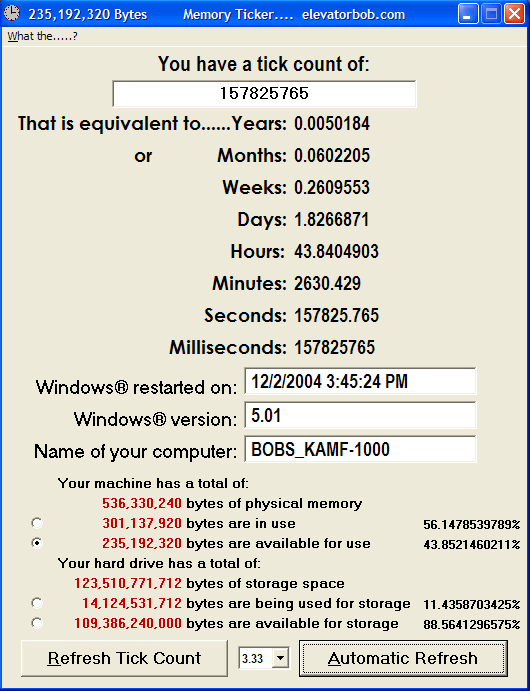 Click Here To Download The "Memory Ticker"

Like to play in the office football pools? Don't know who to pick? Use this program. I use it all the time...winning isn't everything!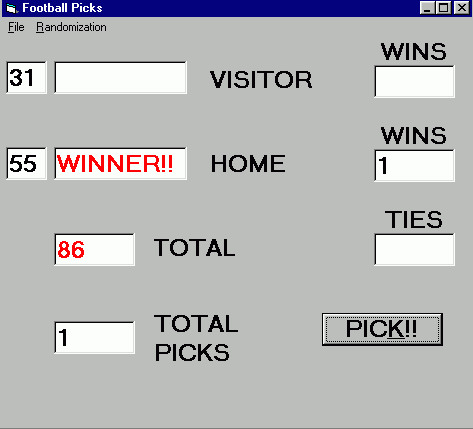 Click Here To Download "Football Picks"




Welcome/Contact

Résumé

Elevator Utilities

Hydraulic Utilities
Electric Utilities

Odds & Ends

Code Updates

Testimonials
Code Updates Archive

Authorities Having Jurisdiction

Find Consultants & Inspectors